MPT11220il power module, wide Input Voltage RANGE, 20A buck converter with integrated inductor
STEP-DOWN DC-DC SWITCHING CONVERTER
ordering information

MoDULE FORM FACTOR

| | | | |
| --- | --- | --- | --- |
| Part Number | Package Marking | TA Rating | Package Description |
| MPT11220IL | 11220IL | -40°C ≤ TA ≤ 85°C | 11mm x 17mm x 6.21mm 100-pin Open-Frame |
| MPT11220IL-EVB | 11220IL | | Customer Evaluation Board |
Features
Excellent Ripple and Transient Performance
Up to 20A Continuous Operating Current
Wide 4.5V to 16V VIN range
0.6V to 5.0V VOUT range
Optimized Solution Size
Programmable switching frequency range from 600kHz to 1.2MHz
Easy compensation with a single resistor
Thermal, Over-Current, Short Circuit, Under-Voltage, and Pre-Bias Protections
Pb-Free and RoHS Compliant, MSL Level 3, 260°C Reflow
Applications
FPGAs, ASICs, DSPs, Network processors, Industrial applications
High density double data rate (DDR) memory VDDQ rails
Server Power Systems
High Thermal requirement applications
Pin Functions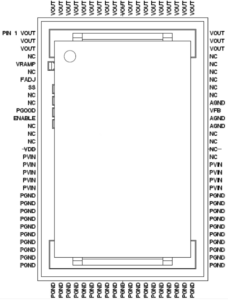 Figure 2: Pin Diagram (Top View)
NOTE A: NC pins are not to be electrically connected to each other or to any external signal, ground or voltage. However, they must be soldered to the PCB. Failure to follow this guideline may result in part malfunction or damage.
NOTE B: White 'dot' on top left is pin 1 indicator on top of the device package.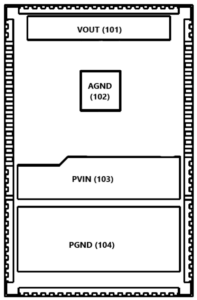 Figure 2A: Pin Diagram (Bottom View)
Pin Descriptions
PIN
NAME
FUNCTION
4,6,9,10,13 – 15,

65 – 68, 73 – 78

NC
No Connect. These pins must be soldered to PCB but not electrically connected to each other or to any external signal, voltage, or ground. These pins may be connected internally. Failure to follow this guideline may result in device damage.
1 – 3, 79 – 100, 101
VOUT
Regulated converter output. Connect to the load and place output filter capacitor(s) between these pins and GND pins. Refer to the Layout Recommendation section for more details.
22 – 60, 104
PGND
Input/Output power ground. Connect to the ground electrode of the input and output filter capacitors. Refer to the Layout Recommendation section for more details.
69,70,72, 102
AGND
Analog ground. Connect to system ground plane. Refer to the Layout Recommendation section for more details.
17 – 21, 61 – 64, 103
PVIN
Input power supply. Connect to input power supply. Decouple with input capacitor to GND pin. Refer to the Layout Recommendation section for more details.
5
VRAMP
Connect a resistor between VRAMP pin and GND to set the compensation.
7
FADJ
Frequency adjust pin. Connect a resistor between FADJ pin and

GND to set the switching frequency. Frequency can be programmed

from 600KHz to 1.2MHz.

8
SS
Soft start control input pin. This pin is used to program the soft start

period with an external capacitor connected to GND.

11
PGOOD
Power good indication pin. It's an open drain output. It will pull low when over current, short circuit, over temperature, UVLO, UVP, and output voltage loss of regulation, including output pre–bias.
12
ENABLE
Enable pin. Applying logic high to the ENABLE pin will enable the device and initiate a soft-start. Applying logic low disables the output and switching stops. ENABLE can be connected to VIN directly or through a resistor. There's an internal 2uA pull up current source.
16
VDD
Internal 5.45V LDO output. Connect a 1uF capacitor from VDD to GND.
71
VFB
External feedback input pin. Connect a resistor between VFB and GND, and another resistor between VFB to VOUT to set the output voltage. Refer to the Output Voltage Setting section for more details.
Electrical Characteristics
NOTE: VIN =  12V,  Minimum and Maximum values are over operating ambient temperature, vin, and load range unless otherwise noted. Typical values are at Ta = 25°C.
PARAMETER
SYMBOL
TEST CONDITIONS
MIN
TYP
MAX
UNITS
Operating Input Voltage (1)
PVIN
4.5
16.0
V
Under Voltage Lock-Out – VIN Rising
VUVLOR
Voltage above which UVLO is not asserted
4.1
4.3
4.5
V
Under Voltage Lock-Out – VIN Falling
VUVLOF
Voltage below which UVLO is asserted
3.3
V
Under Voltage Lock-Out Hysteresis
VUVLOHYS
1
V
Vout Over Voltage Protection
VOVPR
VFB rising
117
%
OVP Hysteresis
VOVP-HYST
VFB falling
2.5
%
Vout Under Voltage Protection
VUVPF
VFB falling
94
%
UVP Hysteresis
VUVP-HYST
VFB Rising
3
%
Shut-Down Supply Current
IS
ENABLE = 0V
10
mA
No Load Quiescent Current
IVINQ
VOUT = 1.2V
4.3
mA
Internal LDO output
VDD
25mA load, Ta from -40℃ to 85℃
5.35
5.45
5.55
V
Feedback Pin Voltage (2)
VFB
VOUT = 0.6V, ILOAD = 0,  Ta =25°C
0.594
0.6
0.606
V
Feedback Pin Voltage (Line, Load, Temp.)
VFB
4.5V ≤ PVIN ≤ 16.0V

0A ≤ ILOAD ≤ 20A ; -40°C ≤ Ta ≤ 85°C

0.588
0.6
0.612
V
Feedback pin Input Leakage Current (3)
IFB
VFB pin input leakage current
-50
50
nA
Soft start source current
ISS
SS=0V, Ta from -40℃ to 85℃
3
4
5
mA
Soft start pulldown resistance
RSS
SS=0.8V
80
Ω
VOUT Rise Time (3)
tRISE
1
ms
Continuous Output Current
IOUT
0
30
A
Current Limit Trip Level
IOCP
VIN = 12V, VOUT = 1.2V, Ta from -40℃ to 85℃
30
36
A
Current Limit Retry Time (3)
TCL_TRY
2.5
ms
Disable Threshold
VDISABLE
ENABLE pin logic going low
1.1
V
Enable Threshold
VEN
ENABLE pin logic going high
1.18
1.2
1.4
V
Enable Hysteresis
ENHYS
100
mV
Enable Internal Pullup Current
IEN
EN = 0V
2
mA
PGOOD pulldown resistance
RPG
PGOOD=0.1V
100
Ω
Switching Frequency
FSW
Programmable Switching frequency
580
1300
kHz
(1) Minimum Vin voltage must be at least 1.3V higher than Vout.
(2) The FB pin is a sensitive node. Do not touch FB while the device is in regulation.
(3) Parameter not production tested but is guaranteed by design.
Layout Recommendations
Recommendation 1: Input and output filter capacitors should be placed on the same side of the PCB, and as close to the MPT11220IL package as possible. They should be connected to the device with very short and wide traces. Do not use thermal reliefs or spokes when connecting the capacitor pads to the respective nodes. The Input/Output Voltage and PGND traces between the capacitors and the MPT11220IL should be as close to each other as possible so that the gap between the two nodes is minimized, even under the capacitors.
Recommendation 2: In order to minimize the Power GND loop, it is recommended to route the input and output loops close to the same point, which is the ground of the MPT11220IL. Decoupling ceramic capacitors are to be placed as close as possible to the module in order to contain the switching noise in the smallest possible loops and to improve PVIN decoupling by minimizing the series parasitic inductance of the PVIN traces.
Recommendation 3: The large power thermal pads underneath the device must be connected to their respective planes through as many vias as possible. The drill diameter of the vias should be 0.33mm, and the vias must have at least 1-oz. copper plating on the inside wall, making the finished hole size around 0.2mm to 0.26mm. Do not use thermal reliefs or spokes to connect the vias to the ground plane. This connection provides the path for heat dissipation from the converter.
Recommendation 4: Multiple small vias (the same size as the thermal vias discussed in recommendation 3 should be used to connect ground terminal of the input capacitor and output capacitors to the system ground plane. Put the vias under the capacitors along the edge of the GND copper closest to the Voltage copper. These vias connect the input/output filter capacitors to the GND plane, and help reduce parasitic inductance in the input and output current loops. If the vias cannot be placed under CIN and COUT, then put them just outside the capacitors along the GND slit separating the two components. Do not use thermal reliefs or spokes to connect these vias to the ground plane.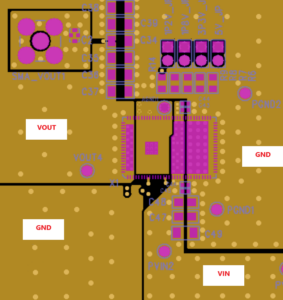 Figure 8: Illustration of Layout recommendations 1 to 4.
Recommendation 5: It is recommended that below the MPT11220IL module, the layers under the top layer should be solid ground planes. This will provide good shielding and lower the ground impedance at the top layer where the module is mounted. AGND should also be routed as a copper plane, in order to reduce the ground impedance.
Recommendation 6: It is highly recommended to use separate nets for AGND and PGND and connect them through a 0Ω resistor or a short. This will help prevent noise from the noiser Power Ground disturbing the more sensitive Analog Ground. The PGND connection point should be near the Output Capacitor GND termination as that GND point is not as noisy as the Input capacitor GND points.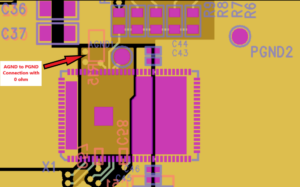 Figure 9: Illustration of Layout recommendations 6.
Recommendation 7: The VOUT sense point should be connected at the last output filter capacitor furthest from the VOUT pins. Keep the sense trace as short as possible in order to avoid noise coupling into the control loop.
Package drawings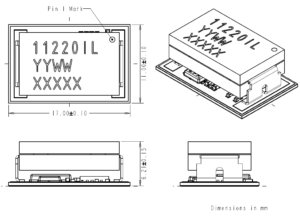 Figure 10: Open Frame Package Drawing